Pot pod noge
There is nothing like walking to get the feel of a country.  A fine landscape is like a piece of music; it must be taken at the right tempo.  Even a bicycle goes too fast.  ~Paul Scott Mowrer, The House of Europe
Ko skočim na kakšen oddih, ponavadi pešačim, da na koncu dneva bolijo noge (ne samo, da tako veliko vidiš, še zdravo je). Zdaj, po prvomajski turi Budimpešta-Bratislava-Dunaj, imam prvič vsaj približne gabarite: kje se gibljejo številke in koliko imam prehojenih kilometrov, če ne šparam s koraki.
Sicer s sabo že dolgo vlačim tudi Garmina, vendar se po mestih, kjer je zaradi stavb vidno le malo neba, ne znajde prav dobro (pa tudi baterija mu hitro izdihne). Že zato je za merjenje razdalj praktično neuporaben (da ne omenjamo pokritih prostorov).
Tudi moj hack GPS-a na telefonu se je v tujini izkazal za precej neuporabnega. V Sloveniji je še dobro delal, kot je razvidno s spodnjega zemljevida. Potem pa je telefon zamenjal omrežje in ker sem imel izklopljen roaming, je navigacija odpovedala. Za geolokacijo s Cell ID ali WiFi BSSID je namreč potrebna podatkovna povezava (d'oh), ki pa jo brez roaminga ni. Na GPS brez asistence prav tako ni za računati, ker rabi približno 5 minut za hladen štart. Torej bolj malo datapointov.1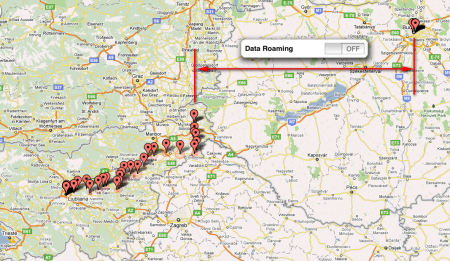 Fitbit to the rescue. Sicer nimam lokacij kjer sem se sprehaljal (nekaj točk vseeno ima telefon, če sem bil dovolj časa na odprtem, da je GPS dobil fix), imam pa kilometrino.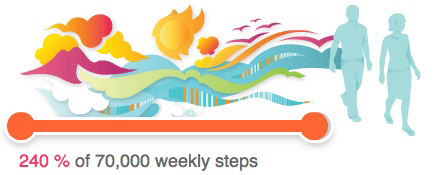 Spodnja statistika je presegla moja pričakovanja in je krepko nad nenehno izmikajočimi se 70.000 koraki (~50 km) na teden:
v 10 dneh prehodil 232.208 korakov
skupaj čez 175 km (peš), kar je cele 4 ‰ Zemljinega obsega 🙂
oz. v povprečju 17+ km na dan
Oz. drugače, nekdo ki bi vsak dan naredil "samo" 17 km, bi v dobrih 6 letih prepešačil celoten obseg Zemlje na ekvatorju: 40.075 km.
V glavnem, hoja je precej podcenjena. Čeprav je naše telo zgrajeno zanjo, se danes umika prevoznim sredstvom, dvigalom in tekočim stopnicam, mi pa postajamo sedeči zombiji.
Avtor strani Zenhabits takole pravi (v svoji objavi "38 stvari, ki sem se jih naučil v 38 letih"), in najbrž ima prav:
20. A good walk cures most problems. Want to lose weight and get fit? Walk. Want to enjoy life but spend less? Walk. Want to cure stress and clear your head? Walk. Want to meditate and live in the moment? Walk. Having trouble with a life or work problem? Walk, and your head gets clear.

Vir: Zenhabits
29. Don't sit too much. It kills you. Move, dance, run, play.

(ibid)
Ko pa sem data roaming vključil, je telefon začel nalagati goro podatkov, in tokrat sem celo razumel zakaj: kot je razložil Jobs zaradi afere "locationgate", telefon ob določenih lokacijskih zahtevah naloži crowdsourcano bazo bližnjih Cell ID-jev in WiFi MAC naslovov, da lahko kasneje lokacijo pridobi tudi v offline načinu; vir [↩]