Vremenski sateliti
Vem, da imamo internet in da s tremi kliki prideš do vremenske napovedi za 10 dni naprej, pa do radarske slike in do satelitskih posnetkov. Ampak tole ima svojevrsten čar in dela tudi brez interneta, pa že precej časa.
V prejšnjem postu sem pisal, da NOAA sateliti z analognim oddajanjem1 počasi ugašajo, ampak nekaj jih še vedno živi. Še več, zadnjega so komaj izstrelili (NOAA 19, feb 2009). Nisem mogel verjeti, pa sem poskusil, in res pripiska mimo.
Ujel sem NOAA 17 in 19, glede na podatke pa sta aktivna še NOAA 15 in 18. Njihove oddajne frekvence so med 137 in 138MHz, kar pomeni, da so samo 30MHz nad pasom FM radijskih postaj (ta je širok 20MHz, od 88 do 108 MHz).
Sateliti oddajajo v FM, tako kot radijske postaje. Edina razlika je, da je valovanje desnosučno krožno polarizirano in za sprejem potrebuješ ustrezno anteno. Ta mora biti prav tako desnosučno polarizirana in jo je dokaj enostavno narediti. Po internetah je dovolj tutorialov, da se v to ne bom spuščal (ključna beseda je "wxsat turnstile").
Da zvemo kdaj sateliti pridejo naokrog (zemljo obkrožijo v približno 100 minutah, vendar ne nad istim krajem), si lahko pomagamo z obilico odličnega softvera; še vedno se dobi WXTrack, ki se ga spomnim še iz leta 2004. Takole izgleda in lepo napoveduje prihodnje prelete.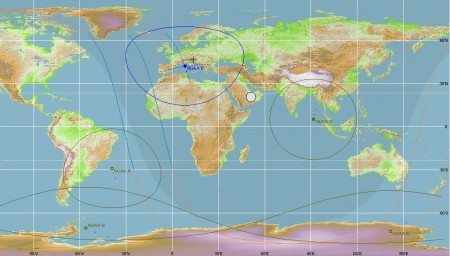 Ko enkrat vemo uro preleta, se postavimo na odprto in posnamemo signal na 137MHz v obliki avdia. Takole se sliši.
NOAA 19, prelet čez Bohinj, 21.11.2010 ob 11:55
Potem pa wav dekodiramo, npr. s programom WXtoimg ali WXSat, pa dobimo takole sliko2 v vidnem in IR delu spektra.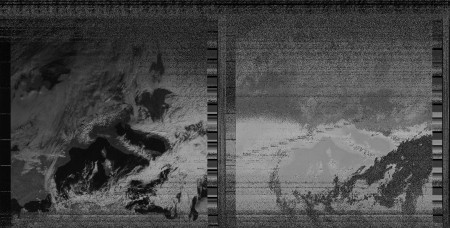 (Tale je iz mojega arhiva; danes sem dobil premajhne čase preletov in so vse slike visoke samo za četrt zgornje).
Program WXtoimg pa omogoča tudi avtomatsko delovanje: računa prehode satelitov, ko letijo čez, jih posname in dekodira posnetek v sliko, to pa lahko tudi kar naloži na spletno stran. Enkrat mogoče pustim zadevo v tem načinu, da vidim kaj se nabere.
t.i. APT — Automatic Picture Transmission [↩]
Za tole sem uporabil anteno lastne izdelave, sprejemnik Yaesu VR-120D, za snemanje Audacity, za procesiranje pa WXsat [↩]