Zbogom, analogno
V študentskih letih, davno je že tega, sem si močno želel širokopasovnega radijskega sprejemnika. Na študentskih vajah iz radiokomunikacij smo poslušali pogovore z Inmarsat satelitov, kar me je totalno fasciniralo. I wanted some of that action.

Zato sem takrat nabavil preprost radijski skener1. Z njim si lahko poslušal vse tole:
NMT telefonske pogovore,
policijo, gasilce, gorsko reševalno, ipd.2
pogovore med piloti in kontrolorji letenja,
avdio TV kanalov (poor man's TV ),
FM in AM radio (slednji tudi od precej daleč; fenomenalno je bilo ujeti francoski ali ruski radio, danes pa imamo internet in se davimo s preobiljem informacij),
NOAA vremenske satelite,
občasno tudi kakšen radioamaterski fenomen
in še kup drugih stvari, ki se jih bodisi ne spomnim ali za katere sploh nikoli nisem vedel.
In ko sem si mel roke od navdušenja, ko je svet šel naprej in je Moorov zakon prinesel širokopasovni internet v vsak slovenski dom, me je hkrati bolelo srce, ker je tehnologija okrog nas postajala precej bolj kompleksna in nedostopna — in ker je moj sprejemnik postajal vedno bolj neuporaben.
No, taksistov recimo že takrat nisi mogel poslušati, ker so obračali spekter. Ampak kmalu je prišel večji udarec: Mobitel je konec 2005 ugasnil NMT, kar je pomenilo konec brezplačnega geekovskega Big Brother entertainmenta.

Nato so policaji leta 2006 prešli na tetro (izgleda pa, da ne vsi — tega nisem vedel), in je bilo konec brezplačnih akcijskih podcast epizod v realnem času.

Tudi večina analognih NOAA satelitov je že ugasnila, letos do konca leta pa izgubimo še analogno TV — po več kot 50 letih rednega oddajanja RTVSLO. Zavidljiva starost za današnje razmere, ko tehnologije menjamo hitreje kot spodnje perilo.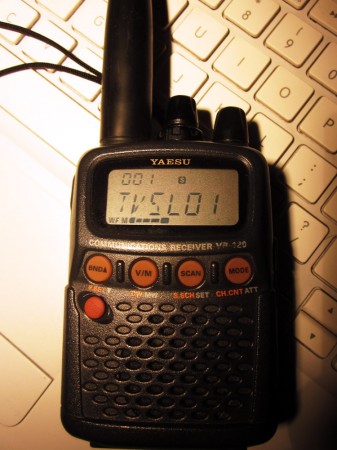 Če me bodo vnuki nekega dne vprašali kaj pa je to, bom lahko rekel samo: "meh, to je generator belega šuma. Pa saj ne bi razumeli: svojčas, v davnih dvatisočih je to bilo, smo po zraku prenašali en kup komunikacije na silno neučinkovit in zapovrh še nekriptiran način…"
Yaesu VR120D, ki je nudil izvrsten price/performance in fantastično območje od 0.1 do 1300MHz [↩]