Kako biti povprečen
Ko sem pred leti gledal Gospoda Schmidta (imdb: About Schmidt), sem bil dokaj razočaran — češ, ne razumem; kaj bi mi ta film rad povedal? Bil sem v zgodnjih 20-ih, na tem da superuspešno zaključim faks, ahead of the game v vseh zame relevantnih pogledih.
Ko sem pred kratkim zgolj iz dolgčasa in firbca pogledal Schmidta še enkrat po TV, sem bil še cel teden depresivne volje. Namreč, gospod Schmidt je v penziji, pogruntal je, da je celo življenje živel by the book in da ni dosegel nič omembe vrednega. Njegovo življenjsko delo v firmi odpeljejo na odpad, otroci se odselijo in ga ne kličejo več, žena mu umre in nihče več ga ne potrebuje.
Warren Schmidt: Relatively soon, I will die. Maybe in 20 years, maybe tomorrow, it doesn't matter. Once I am dead and everyone who knew me dies too, it will be as though I never existed. What difference has my life made to anyone. None that I can think of. None at all.
3 minute iskanja smisla življenja:
Nekaj dni nazaj sem slučajno našel manifest A brief guide to world domination [pdf] s podnaslovom How to Live a Remarkable Life in a Conventional World, od nekega Chrisa Guillebeaua1.
Skeptično sem zadevo preletel (češ, spet en pametnjakovič, ki bi bil rad pomemben), videl da ima 29 strani in pospešeno zaključil. Ko pa sem zadevo dobil še po dveh drugih kanalih, sem ji dal še eno možnost… in prva stvar, ki sem jo prebral, je bila tole (vir):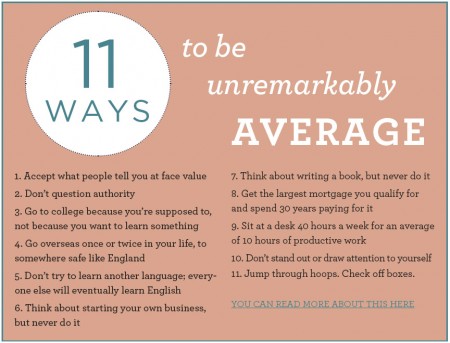 Z izjemo točk 3, 4 in 5, bi to lahko bilo moje življenje.
To je priročnik za ljudi, ki nočejo živeti na tak način. Predlaga, da najprej razčistimo odgovor na 2 vprašanji:
Kaj zares hočeš od življenja?
Kaj lahko ponudiš svetu, kar ne more ponuditi nihče drug?
In še bistveno sporočilo — 2 stavka, klasični floskuli, ki jih poslušamo že celo življenje, pa se še nikoli nismo ustavili in razmislili kaj točno to pomeni za nas. Ker je težko. In ker odgovor ni enostaven.
Ni ti treba živeti tako, kot od tebe pričakujejo drugi.
Svet čaka nate, da boš ugotovil, kaj lahko le ti prispevaš. Vzemi si toliko časa kot je potrebno, da najdeš odgovor, nato pa se tega loti.
Proces iskanja takih odgovorov se lahko zavleče na celo življenje. Ampak že samo razmišljanje o tem pomeni, da smo korak bližje. Kdor išče, ta najde? Razmišljanje in upoštevanje gornjih nasvetov. Drugače bomo končali kot Schmidt. In — saj veste — Schmidt happens.
Seveda je vedno treba preveriti čigave nasvete poslušamo (predstavitev, prve tri minute). [↩]