iGoogleBooks
Brskam po sveže digitaliziranem arhivu revije Popular Science1 na Google Books in sem opazil, da se oglasi ob strani prilagajajo na vsebino strani: ko listaš po reviji, se oglasi osvežujejo (glej sliko: pravi oglas iz leta 1988 je na temo avtomobilskega radar detektorja, na levi pa so Googlovi oglasi za radarje).
Fascinantno, če pomislimo, da je treba po digitalizaciji vse knjige spustiti čez OCR, najbolj trdovratne besede pa ponuditi ljudem, da jih razpoznajo v okviru projekta ReCaptcha2.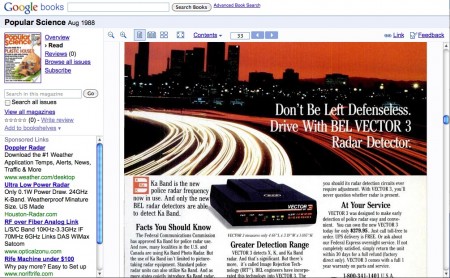 Oglasi pa pomenijo, da lahko Google dejansko služi s tujimi knjigami in revijami.
In branje knjig na zaslonu bo kmalu korak bližje branju knjig na papirju. Kljub začetnemu nenavdušenju (tudi mojemu) in šalam na račun iPada, češ da gre samo za povečan iPhone, postaja vse bolj jasno, da bo to "game changer" za surfanje in branje knjig na kavču.
Poglejte recimo Wiredov prototip e-revije, ki se ga lahko nalepi na vsak tablet, in pa inovativne elemente uporabniškega vmesnika na iPadu ("izgleda kot pregledovalnik, deluje kot urejevalnik", ipd.)
Idealen par za tako tablico bo aplikacija v stilu Google Books: digitalizirane knjige in obsežni arhivi revij, po katerih bomo lahko listali brez laptopa v naročju. Komaj čakam.
Naslednja stvar, ki jo pričakujem je pa tale. Že danes lahko vse knjige, ki jih imamo, preko ISBN vnesemo v svojo Google Books knjižno polico. In potem recimo iščemo po njih. To je silno uporabno, če vemo, da neko zadevo imamo, ne vemo pa točno v kateri knjigi ali na kateri strani. Trenutno iskanje omogoča samo prikaz izseka strani, kjer se nahaja zadetek. Če pa bi zadeve dobro prepojili z reklamami (à la Hulu), bi kar naenkrat dobili dostop do večine svetovnih knjig. Največja knjižnica na svetu na domačem kavču. It's closer than you think.
137 letnikov revije, http://www.popsci.com/archives [↩]
http://en.wikipedia.org/wiki/Recaptcha, Google jih je prevzel septembra lani [↩]